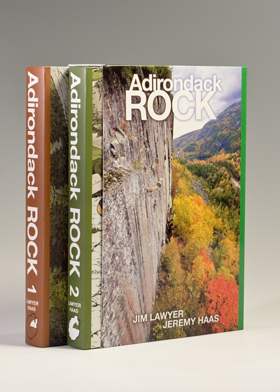 ADIRONDACK ROCK, Second Edition
Price: $40.00 U.S.
8% sales tax added for New York State residents.
Shipping: USPS Priority Mail
Within the U.S.
$9.00
1-2 days
International
Unavailable
Description: Comprehensive guidebook to rock climbing in the Adirondack Park. Two volumes (560 and 544 pages), full color throughout. Includes detailed information on 3,100 routes and variaions, on more than 320 cliffs.
Tax Exempt: Are you are ordering a book for a New York State tax exempt organization? No problem: Just send an email to AdirondackRock@gmail.com and we'll give you special instructions.
Why is shipping so expensive? The USPS continues to raise their prices. Their most recent increase raised the domestic flat rate envelope to $8.95. We no longer ship to non-US addresses.




Note: You do not need a PayPal account to order by credit card. Click "Order Now", then select "Pay with a debit or credit card".
Payment is accepted via all major credit cards through PayPal.
No PayPal account is required.
Your payment will be processed on the day the book is shipped to you.
Only one book can be ordered at a time.
Domestic shipping usually arrives the next business day.


Consider supporting other local guidebook authors by purchasing directly from their web sites.