Adirondack Rock is published by Adirondack Rock Press, LLC
Adirondack Rock Press, LLC.
Box 80
Pompey, NY 13138
AdirondackRock@gmail.com
(315) 677-5272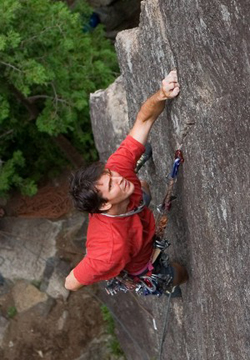 Jim Lawyer
Jim began bagging peaks in the Adirondacks at the age of 5, during a family vacation in 1970. His love of wild places and the escape they offer led him to long-distance hiking in his teens. After that, rock climbing was a natural extension. Over the last 30 years, he has dedicated his life to climbing extensively around the world. With an education in computer science from Syracuse University, he helped found Summit Software in 1989. He and his wife Lucie split their time between Pompey, NY, and their hut in the High Peaks.
Jim Lawyer
Box 80
Pompey, NY 13138
jim@summsoft.com
Instagram: @jimlawyer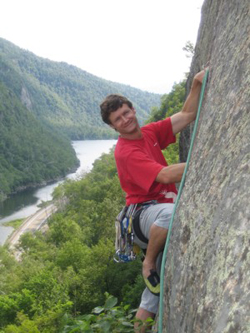 Jeremy Haas
Jeremy began climbing at the age of 14, and promptly abandoned his childhood dream of becoming an Olympic gymnast. His first Adirondacks weekend was an epic: wasp nests on Poke-O; freaky runouts on Big Slide; and a struggle up Wallface after he'd left all the slings in the car. A graduate of the University of New Hampshire, with a Masters in Education from Cornell, he teaches science at Saratoga Springs High School, and in his spare time is a guide for Adirondack Rock and River. Jeremy and his wife Erika live in Glens Falls, NY.
Jeremy Haas
18 Coolidge Ave
Glens Falls, NY 12801
jmhaas73@gmail.com